Financial Wellness
Texas Financial Wellness is here to help you improve your financial health and security. Through one-on-one counseling and workshops, Texas Financial Wellness can give you the tools and resources you need to make healthy financial decisions during your academic career and beyond graduation.
One-on-One Counseling

Need to meet with a finance counselor? Schedule a virtual one-on-one appointment with a Certified Personal Finance Counselor.
Appointment management tool ›

Explore our events calendar and register for upcoming events for helpful information, including budgeting, managing debt, taxes, and more! Workshops and employer-led presentations and events are open to all undergraduate and graduate students. Want us to present at your event? Complete our outreach form to request a presentation.

Learn about budgeting, loans, saving, managing debt and more using these interactive videos and self-paced learning modules. Use the help button at the bottom of the digital library if you experience any issues accessing materials.
Financial Aid Questions?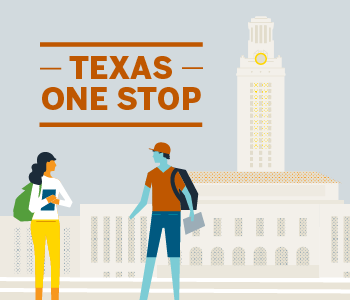 Visit the Texas One Stop for information about costs, scholarships, and financial aid. We're here to answer your questions and help guide you through the financial aid process.
Learn more ›